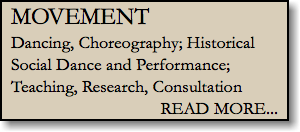 I have a strong background in the arts, especially dance and musical theatre. My first career is in dance, dance history and scholarship, and teaching. I still love to dance, and I'm rebuilding my teaching career in my new home town. I started my training with ballet, jazz, and tap, but I specialize in percussive dance, English and American country dancing, and Victorian and Ragtime social dancing. I love teaching and breaking things down into easily understandable pieces. I understand the enormous value that the arts bring to life and culture, and I want to stand up for the arts in our society.
Here are some of the ways I could help you:
Teaching

Able to break down complicated concepts

Choreography
Performance
Historical dance reconstruction
Research
Consultation
Here are many of the dance styles I teach:
Percussive dance

Tap
Appalachian clogging
English clogging, including Marley dance clog
Irish step-dancing

English Country dancing

Calling and teaching
From traditional Playford and Cecil Sharp dances to modern composers like Brooke Friendly and Chris Sackett, Colin Hume, and Fried de Metz Herman.

American dances
Ritual Dancing
Twentieth-century social dances

Ragtime (ie: Titanic, Pre-World War I era (1900–1914)), including:

Cakewalk
One-step
Castlewalk
Blues
Tango
Maxixe
Animal dances (Grizzly Bear, Bunny Hug, Duck Waddle, Pony Trot, Horse Trot, etc)
Fox-trot

Charleston and Black Bottom (1920s dances)
Modern ballroom dances

Swing
Salsa
Cha-cha
Rumba
Waltz

Victorian dances (from the Nineteenth-century)

Jane Austen-era social dances

English country dances
Regency footwork

Victorian set dances
Victorian couple dances

Waltzes:

1860s waltz
1890s/Viennese waltz
5-step waltz

Polka mazurka
Polka redowa
Mazurka
Polka
Schottische

Scandinavian Hambo
See my calendar of upcoming dances (?).
See some videos of my dancing and teaching.
Put me to work for you! Hire me.